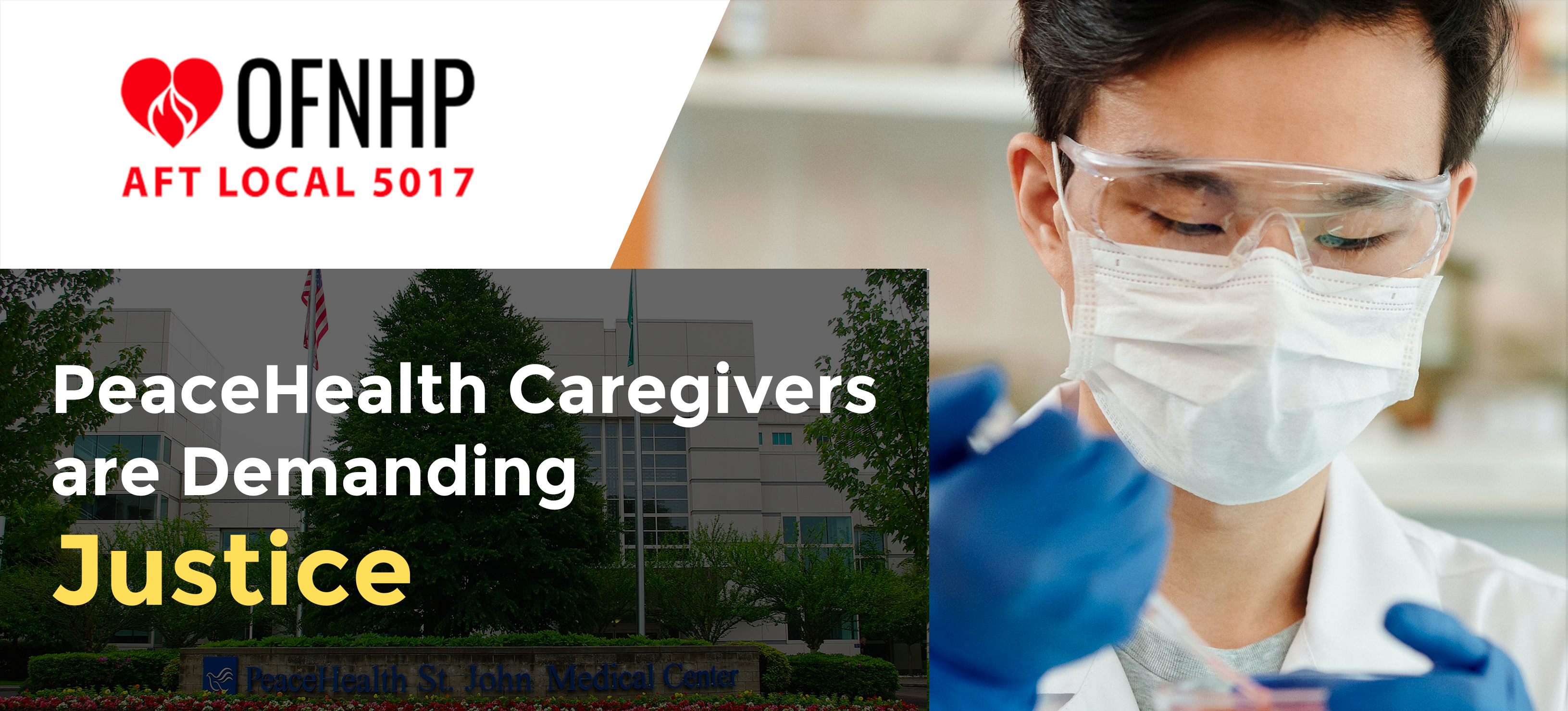 11/30 Update: PeaceHealth Workers Reach Tentative Agreement
What We Are Asking For

Living wages that will ensure that Techs, Lab Professionals, and Service and Maintenance workers want to work at PeaceHealth, thus repairing the staffing problems.

For management to treat the staff and bargaining team with respect, including negotiating over the issues that they are legally bound to.

Agree to important provisions like a fair disciplinary procedure, provide the same PTO as they provide to management, and create a fair scheduling system.
How You Can Help

Send a letter
to PeaceHealth executive Sean Gregory telling him that it's time to treat healthcare professionals with respect.


Our Story 
PeaceHealth caregivers are essential frontline healthcare professionals who help patients to diagnose and treat critical illnesses. They are essential to patient care and have been saving lives, particularly through the COVID-19 pandemic.
What's Happening
Over the past several months, PeaceHealth caregivers have been negotiating their union contract with a management who refuses to bargain fairly, offer living wages, or do anything about the short staffing that can harm patient care.
Now's the Time
We need fairness and respect at work, and for management to agree to an adequate contract that will ensure living wages and create the kind of workplace that will attract and retain qualified staff. Our patients deserve it.
Peacehealth Caregiver Voices

Strike FAQ
What is a strike exactly?
When bargaining fails to result in a contract we can be proud of, a strike is our last option where union workers, together, refuse to go to work, shifting the balance of power and showing the employer how essential we are.
How would a strike end?
Once we reach a Tentative Agreement (TA) on the new contract or a contentious article we may issue a notice of a "return to work," which means the strike has ended and all striking workers will return to their regular shifts and vote on whether to ratify our contracts.
Will striking hurt our patients?
Not at all. In fact, we would be striking to ensure that PeaceHealth invests inpatient care and those of us who provide it. We use our collective strength to help make that happen. The hospital has a duty to provide adequate care. And since they need to meet that need, they will be pushed to settle the contract as quickly as possible. Remember: PH has the power to void a strike. We are on the frontline taking care of our patients.