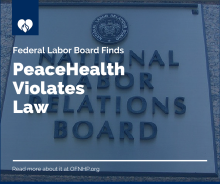 After OFNHP members filed complaints with the National Labor Relations Board, the federal agency charged with protecting workers rights and overseeing union elections, conducted an investigation and found that Peace Health violated the law.
The board found that Peace Health Southwest Medical Center acted illegally when an agent from the human relations department attempted to stop a union member from having a protected conversation with a steward and union representative.
Working people have rights to speak with their union about their working conditions.  
As a result of their investigation, the NLRB found in favor of OFNHP's Unfair Labor Practice (ULP) charge and ruled that PeaceHealth must post signage that advertises to employees that their legal rights will be honored at PHSW.  
PEACEHEALTH MUST POST THE FOLLOWING MESSAGE:
Federal Law Gives You the Right to:
• Form, join, or assist a union;
• Choose a representative to bargain with us on your behalf;
• Act together with other employees for your benefit and protection;
• Choose not to engage in any of these protected activities.
WE WILL NOT do anything to prevent you from exercising the above rights.
WE WILL NOT watch you while you have discussions with union representatives.
WE WILL NOT interfere with your conversation with union representatives and while you are talking to them instruct you that you do not have to speak to the union representatives if you don't want to.
WE WILL NOT in any like or related manner interfere with your rights under Section 7 of the Act.
OFNHP members remain vigilant to make sure that PeaceHealth lives up to its legal responsibilities.