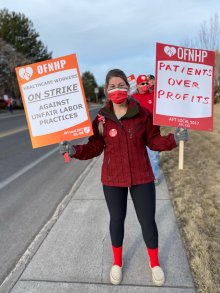 Today we have a letter from one of the striking techs at St. Charles Medical Center in Bend, addressed to management. Her story relates an experience that many of these essential healthcare professionals have with St. Charles, one of betrayal.
Dear St. Charles,
Today I walked out of St Charles Bend and I'm not sure when I'll be allowed to return. I love what I do and I care about helping my community but your working conditions and patient practices are unacceptable. I have devoted nearly 8 years of my life to working for this organization. I work Weekends, Graveyards and Holidays to keep my community healthy.
Never have I been so disappointed and ashamed of the way you choose to operate your organization. St Charles has the privilege of being the only hospital system in Central Oregon and instead of leading by example and building your community up you have chosen to exploit your caregivers and now slander them in the media.
I have not taken this decision lightly but in order to keep providing quality care in the spirit of love and compassion I have made the decision to stand in solidarity with my fellow caregivers and head to the picket line. I hope that our organization will do what is just and fair and settle a contract swiftly. Until then... you may wave and honk your horn at me while I stand outside your doors waiting for you to let us back in!
Regards,
Mackenzie Campbell, Technologist