Members of the Oregon Federation of Nurses and Health Professionals didn't let the rain stop them from standing with their community in Portland and distributing hundreds of books over the Martin Luther King Jr. weekend.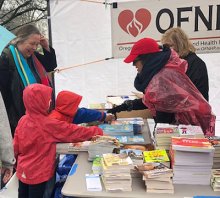 The Portland community, including many OFNHP members, turned out in force on Sunday to participate in the Reclaim MLK Annual March for Human Rights and Dignity. The event was sponsored by Don't Shoot Portland (also called Don't Shoot PDX), a grass-roots organization with a focus on social justice.
OFNHP members were on hand to give away hundreds of books to children and their families, as well as toothbrushes and first-aid kits. The federation also set up a station for children to make bracelets. The books were hand-selected by OFNHP, which worked with First Book, an AFT partner that helps affiliates in providing free and low-cost books and educational resources to students, families and communities in need.
"People loved the books," says OFNHP President Adrienne Enghouse. "It was an awesome event and a great way for us to connect with the community. It was also an opportunity for the community to see health professionals in a different light."
For many members, it was the chance to deliver care beyond the bedside. Rhea Hindemit, a histology technician and OFNHP member spent the day helping children make bracelets. She was excited about giving away free books and taking the time to connect the dots between social justice and unions. "It's important that people see unions as a part of the community," she says, "and for us to connect with people and help them understand what unions stand for."
The event gave the nurses and health professionals a chance to talk about how to create a healthy community with residents, says Enghouse. "Talking with them helped us to understand their needs when it comes to healthcare and to share preventive education."
 [Adrienne Coles/photo courtesy OFNHP]