Table of contents:
---
PeaceHealth Sacred Heart is accepting donations of homemade masks. PeaceHealth in Washington has not taken a public stance yet on this issue.
At a time when all healthcare facilities in the country are in a severe shortage of PPE, the debate around this question has been fast-moving and chaotic. On March 23rd, 2020, the CDC acknowledged that the use of homemade or DIY PPE could be a "last resort." "Caution should be exercised," the CDC warns about matching up a house cloth against the new coronavirus. "Their capability to protect [medical workers] is unknown." In a review of studies on the effectiveness of DIY masks (DIY Masks: Worth the Risk? Researchers are conflicted), the authors indicate that "something is better than nothing" when nothing is all that's available.
Because homemade masks tend to be slower to evaporate particles, we do not advise using them for more than a couple of hours at a time. Do your best to disinfect any mask that becomes damp and then allow it to hang until dry.
While it's not "best practice," we agree with the CDC's recent recommendations that extreme conservation tactics need to be implemented in ways that protect staff and patients. We do not support using face masks continuously for an entire shift as the manufacturers' guidelines recommend no more than 4 hours due to it becoming damp by breathing and making droplets easier to move through the material. Again, do your best to disinfect any mask that becomes damp and then allow it to hang until dry. For gowns: it's old school, but gowns can be wiped with disinfecting agents and hung to dry; they should not be shared between COVID positive patients and non-COVID patients.
OSHA has specific workplace safety requirements with regard to PPE. If you believe these standards are being violated, file a complaint with OSHA and then forward a copy of your completed report to itsmyunion@ofnhp.org.
We do not have any direct information about PPE deliveries to PeaceHealth.
We do believe that, at this point, employers are working hard to get PPE to open locations, and working with public officials and organizations to receive donations. Although it's not ideal, our most immediate action has to be judicious use and conservation.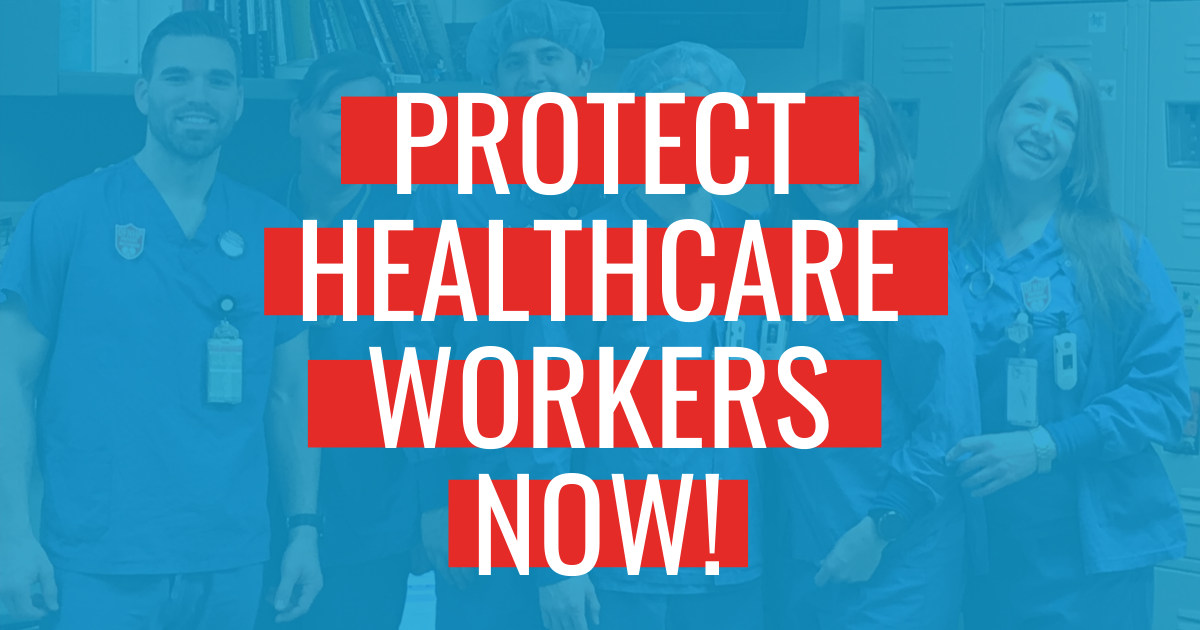 Please sign on the OFNHP petition demanding that our public officials work immediately to prioritize PPE production, cost controls, and delivery through legislation now proposed in the U.S. Congress.
---
PeaceHealth management has indicated that if an employee believes they are at high risk, they should tell their manager directly and ask to be accommodated. Please report what happens to your Internal Organizer (Laurie Kelly, Ida Baumer, Marc Perrault) so that we can track the situation.
See the answer above.
---
Please note: we are not addressing the recently enacted federal legislation (Families First Coronavirus Response Act) because, unfortunately, it does not apply to OFNHP members. All of us work for employers with more than 500 employees, and those employers are exempt under the legislation.
Yes! You can use your contractually negotiated paid sick leave just as you would for any other illness. In all cases, state law and Federal FMLA run concurrently with contractually negotiated sick leave. When and if you use all of your contractually negotiated paid sick leave, city, state, and Federal laws would then apply.
At that point, you would call UNUM at 866-617-3759 to initiate the process. If you are in Oregon, UNUM will take it from there. If you are in Washington state, click here to go to the site where you apply directly with the state.
On March 24, 2020, PeaceHealth launched a new "Temporary Paid Sick Time Bank" specifically for the COVID-19 emergency period. This is paid sick leave in addition to your contractually negotiated PTO. This bank is available to both full-time and part-time PeaceHealth employees in Oregon and in Washington. Click here to read the full policy.
As noted in the question above, first use your contractually negotiated paid sick leave; if this runs out, you can apply for unpaid leave under city, state, and federal laws.
Both the Oregon Paid Sick leave law and the Washington State Paid Sick Leave law require employers to allow you to use your paid sick leave in the event of school closures. For information and local resources on childcare assistance, see our childcare options listings.
The attendance policy remains in place, and we have not been informed of any plans by management to delay enforcement. Members should document why they are not able to come to work, are late, or leave early. Our collective bargaining agreement gives management 14 days to meet with members on alleged violations of the attendance policy, and we will hold them to that deadline.
Please see, "Work Assignment Accommodations" section.
---
Oregon members:
Washington members:
Generally, if you've lost more than one day of work in a week you will be eligible for some WA state unemployment benefits. There are many different situations that will affect your eligibility, but we urge you to apply. There is no harm in applying, and you may be able to collect some of your lost wages.  
You MUST work 40 hours a month to maintain your health insurance.
Can my manager change my hours due to COVID?
Your contract has language that says the employer has to have mutual agreement to change your schedule. If you volunteer to change your hours, then you have given up this right for the shifts you volunteered to change. In a state of emergency, your employer may change your schedule outside of the contract language.
Do I have to volunteer to take Low Census if asked?
No.
Can my manager order me to LC?
Yes. There is a very specific order, however, which is in your Collective Bargaining Agreement Sub Article 10.12. (see chart below)
If I volunteer to leave work due to Low Census, do I have to use PTO?
You can use PTO or unpaid leave.
If I am ordered to LC, what happens next?
First, you'll call the Labor Pool to see if there is any work available. If yes, report to your new assignment. If no, then you will be sent home on Paid Admin leave for the remainder of your shift.
I was sent home on Low Census in March and I didn't get paid admin leave, I had to use PTO. Can I get retro-pay or PTO credit for that?
No. This is a new policy, currently effective April 1, 2020 – May 1, 2020.
What is the Labor Pool?
The Labor Pool is a mechanism to get work done that is specific to emergency situations like COVID.  Any work group needing assistance can ask for people to fill in to help with unusual needs (work). It can also provide work for employees without any work in their usual position. Some examples of Labor Pool work are taking temperatures at hospital entrances or running supplies to areas that are in need.
Do I have to participate in the Labor Pool?
Yes.
How do I check for work in the Labor Pool?
Call 514-SNOW.
What do I get paid in the Labor Pool?
You will receive your usual hourly wage.
What are my options under Low Census?
What's the order of assignment to LC?
Collective Bargaining Agreement
LC Order of Assignment
Volunteers earning at least 1.5 times the regular rate of pay
Employees earning at least 1.5 times their regular rate of pay
Volunteers working at a regular straight time rate of pay
Agency personnel and temporary employees.
Per-Diem employees
Employees working an extra shift (outside their regular schedule)
Full-time and part-time employees on an equitable rotation basis, starting with the least senior employee, provided that skills, competency, ability, and availability are all considered equal
---
PTO CASHOUT PROGRAM
Can I cash out my PTO to help cover expenses right now?
Yes! PeaceHealth has expanded eligibility for PTO cash out due to financial hardship. This now includes "unexpected significant reduction in household income due to emergency or extraordinary circumstance that severely impacts your ability to provide for your family."
 
An unexpected significant reduction in household income is defined at the caregiver's discretion (e.g. significant other's loss of income, etc.). No additional documentation is needed.
 
Cashing out your PTO due to financial hardship:
    •    Is limited to once every 30 days.
    •    May not reduce PTO balance below 80 hours.
    •    Only applies to the PTO hours (does not include COVID-19 bank, EIB, etc.)
What is the process for cashing out PTO?
To request a PTO cash-out, fill out the Financial Hardship Request for PTO Cash Out. Submit the completed form to the HR Service Center.
Who can I contact about PTO cash-out questions?

Contact the HR Service Center at 855-333-MyHR (6947) or go to My HR on Crossroads and click on AskHR.